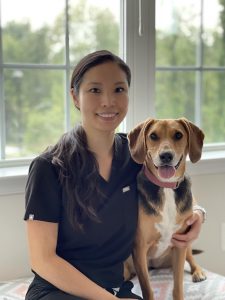 Dr. Jennifer Yau grew up in Richmond, Virginia before settling down in Central Maryland in 2020. She earned her Bachelor of Science Degree from Virginia Commonwealth University where she continued her education at VCU School of Dentistry, graduating in 2016. She went on to complete a General Practice residency program at the Veterans Affairs Medical Center in Baltimore to gain additional training in advanced dental procedures as well as hospital, emergency and implant dentistry. Prior to moving to Maryland, she spent four years in private practice near Charlottesville, Virginia. She is happy to be settling in the area and becoming a part of the local community. In her free time, Dr. Yau enjoys exploring the outdoors, fitness, binge-watching tv shows and spending time with her family which includes her adorable beagle-shepherd mix, Nori.
Meet Our Team
One the benefits of visiting Sunrise Dental Studio is that our team members have been with our office for some time. You will always see friendly and familiar faces that know you and your smile. Our team will take all of the time necessary to help you understand your dental needs and treatment options. We invite you to meet our team members below when you call 410-647-3595 for a dental appointment in Pasadena, Maryland, with our dentist.
Check back soon to meet our team!